Hate Writing Blog Posts? Bertha AI Review she can write them for you!
If you're a small business owner who wants to take your blog to the next level, Bertha AI can help. With this AI-powered writing assistant, you can get help with crafting headlines, researching topics, and more. If you have a site and blog, you know that content is key to driving traffic to your website and generating leads. But creating fresh, engaging content can be time-consuming and difficult to fit into your busy schedule. That's where Bertha AI comes in. Bertha AI is a content creation tool that can help you write blog posts quickly and easily. Just enter a few keywords and Bertha AI will generate a list of potential topics for you to choose from. Then, simply select the topic you want to write about and start typing. Bertha AI will help you create a well-written, keyword-rich blog post in minutes. So you can spend less time writing and more time running your business.
Luckily, there's now a solution that can help you get all the benefits of blogging without any of the hassle: Bertha AI.
Above you will see a video with a Bertha AI review I recorded and it is essentially a how to guide for writing blog posts with Bertha AI.  This blog post was written with a ton of help from Bertha AI.  Yes some of it is rewritten but many of the ideas and a lot of the written content came from Bertha. Bertha AI really is a great tool that can save you time writing not just blog posts, a ton of other written content and it is fun to use and play around with.
What is Bertha AI?
Bertha AI is a cutting-edge artificial intelligence platform that provides users with the ability to create blog posts and other written content on a variety of topics. Using natural language processing and machine learning, Bertha AI can generate high-quality content that is both informative and engaging and can write in many different tones and even in tones of certain famous people. Here is the exact text from the Bertha AI site that tells what it is.  "Bertha is an AI-based writing assistant that has been trained on hundreds of billions of lines of content to help you write better content on your WordPress website. In just a few clicks, you can have a variety of content for your website that's guaranteed to convert – from blog posts to landing pages, to product pages." You can write in more long form content or in shorter paragraphs which is what I chose for this post. There are other WordPress AI content generator software like Jarvis AI and Copysmith AI, but we haven't used those and Bertha AI is the one we have used and suits us very well so that is why we have done a Bertha AI review.
The Bertha AI Logo will show up in most places that you write content in your WordPress site. Here is an image of what that will look like.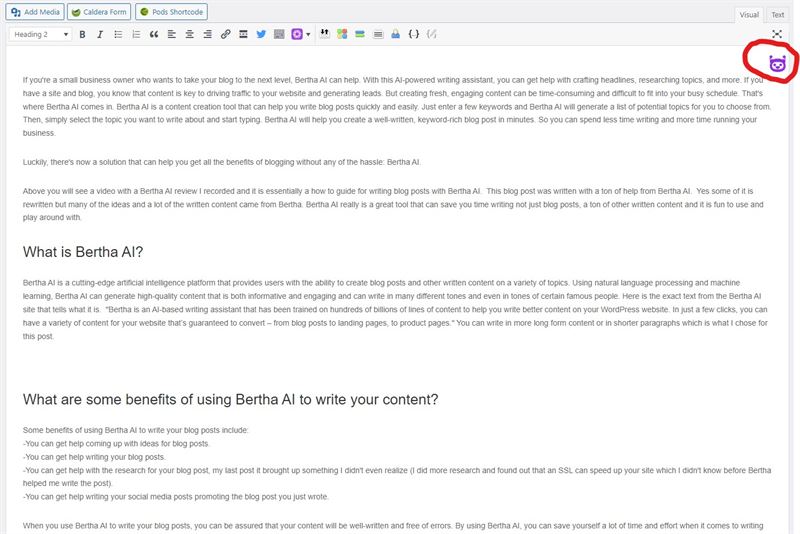 And here is what will popup. You will see many different templates to help you write tons of different types of content. It will ask you a little bit of info and you can many times just put in the blog post title or your headings to get some great content.
What are some benefits of using Bertha AI to write your content?
Some benefits of using Bertha AI to write your blog posts include:
-You can get help coming up with ideas for blog posts.
-You can get help writing your blog posts.
-You can get help with the research for your blog post, my last post it brought up something I didn't even realize (I did more research and found out that an SSL can speed up your site which I didn't know before Bertha helped me write the post).
-You can get help writing your social media posts promoting the blog post you just wrote.
-You can get help writing good SEO content for your site.
When you use Bertha AI to write your blog posts, you can be assured that your content will be well-written and free of errors. By using Bertha AI, you can save yourself a lot of time and effort when it comes to writing and promoting your blog posts.
Examples of successful blog posts that were written with the help of Bertha AI.
If you're wondering whether Bertha AI can actually write decent content, just take a look at some of the blog posts that have been written with her help. This blog post was written with the help of Bertha and is shown in the video above. We also wrote our recent blog post "What is an SSL and why your site needs one!" with a bunch of help from Bertha (at least 2/3 – 3/4 of the actual written content was straight from the plugin). Some other examples of blog posts that were written with the help of Bertha AI include "10 Advantages of using an AI copy assistant inside WordPress" and the rest of Bertha's blog on the Bertha AI Site. These pieces of content are engaging, creative, and conversion-focused, helping website owners to save time and generate more leads.
Tips on how to get the most out of using Bertha AI when writing blog posts
If you're looking to get the most out of using Bertha AI when writing blog posts, there are a few things you can do to make sure you're getting the best results.
First, be sure to take advantage of Bertha's ability to understand natural language by writing your questions/prompts in a clear, concise manner that is relevant to the information you want to get back.
Secondly, take advantage of Bertha's ability to research and gather data by including relevant and up-to-date information in your posts. Check the info she has spit out to make sure it is relevant, helpful and correct.
Thirdly, do blog posts in small chunks.  You can get some help with the title and with the blog post topic, but if you already have that and know what you want to write about then go to the blog intro paragraph.  Get a good intro paragraph written then onto the blog post outline.  Have Bertha write the outline and get some good ideas (usually about 4-5 will popup). Then pop in each piece of the outline and have Bertha make paragraphs and content for you based on this content. With Bertha's help get the conclusion paragraph.  At this point you should have a good chunk of text and a good amount of ideas to play with the paragraphs and ideas.  You will want to bolster them, add other good content, more specific info you want and definitely images or videos.
Lastly, take advantage of Bertha's ability to optimize your blog post for search engines by including keywords and phrases that are likely to be searched for by your target audience. By following these tips, you can be sure that you're getting the most out of using Bertha AI when writing blog posts.
Pricing and Where to get it
Bertha offers a variety of plans to fit the needs of small businesses. The free plan allows 5000 words per month at no cost (edit: just recently changed from 1000 words to 5000 words that's an awesome deal!) but does not include the AMA feature. The Starter plan is $8.50/month (if paid yearly) for 15,000 words (enough for probably 7 or so blog posts).  The Pro plan is $25/month (if paid yearly) and gives you access to all of Bertha's features, allows the plugin on 3 sites and allows 50,000 words per month (roughly enough for 20 blog posts at about 1000 or so words). For larger businesses, Bertha offers the Pro Unlimited Plan plan that is $83/month (if paid yearly) it has all of Bertha's features, allows the plugin on unlimited websites and allows for 500,000 words per month. Along with this pricing structure they also allow a pay as you go option that allows you to pay for a certain number of words 1 time.  This opens up the AMA feature for the free plan and this costs $18 for 10,000 words all the way up to $110 for 100,000 words and other options in between.
If you're someone who hates writing blog posts or just don't have the time for it, then Bertha AI is perfect for you. All you need to do is provide a topic and some keywords, and Bertha will take care of the rest. I don't usually give a number score for reviews I do, but with this Bertha AI review, I think I will do that.  I would give it a 7 out of 10.  It brings in some great content and is quite helpful with ideas.  Sometimes the content is not 100% relevant so you have to change your query.  I also dock it a few points as it is only available as a WordPress plugin, but I did have word from the developer that there will be a different way to access it so you are not required to use WordPress.  I probably would end up using the new way as I really don't want another plugin on my site.  So, lookout for those changes.